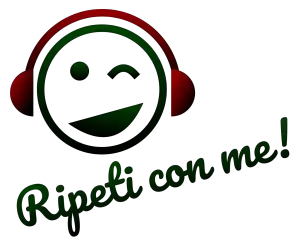 Ripeti con me!
Ripeti con me! (Repeat after me!)
If you're serious about singing in Italian, don't just learn how to pronounce lyrics. Learn the language they're written in.
On this website, you have the option to book Italian lessons on Skype. As a supplement that, or alternatively, you find an excellent learning resource that will make you speak Italian every day: the Italian audio course "Ripeti con me!" It's for total beginners to intermediate learners who want to practice speaking. Total beginners can take it without being either overwhelmed or bored.
During the course, you will :
Improve pronunciation
Think directly in Italian
Speak faster, with confidence
Retain useful vocabulary
Master grammar patterns
Pronunciation, grammar, and vocabulary are acquired unconsciously, straight from sentences. Basic vocabulary is repeated throughout the course. Contents are kept practical. Grammar patterns are repeated intensively during each lesson, with occasional repetition from lesson to lesson.
Visit "Fluent. Simple." to browse the course program and listen to a free preview!
Does it work?
Learning a language with most regular methods is like a patchwork quilt…you build chunks of a language and you then somehow have to cross the abyss, from knowing vocab and knowing rules to having meaningful conversations. This is a hard approach and very frustrating, the way I was taught French in school and the reason you get people studying for years but never able to actually use the language.
"Ripeti con me!" helps you cross this abyss early on by not spoon-feeding with artificially slow conversations but rather full speed conversations and the use of regular language. The rules and grammar etc you can focus on later (if you really want to?!) after becoming conversationally fluent.
I've also used courses based on the same principles and learned several languages successfully. If it worked for me, you should also give it a try!